#ootd
body image
coffee
fashion
positivity
pretty
rosy
Do I have to be Skinny to be a Fashion Blogger?
Now, I must admit I am not exactly big nor am I stick thin, but as someone who struggles to find shops that cater for my slimmer build I think it is time we questioned the uneven production of clothes sizes. Please discuss this and feel free to criticise my point of view I am being curious about the industry that I am interested in.
Within Blogging
I find that being skinny has a stigma attached to it, and that people ask questions and make judgements about your personality about your size internally but never to you:
She doesn't represent a 'real' woman
Now I know the above comment is slightly sexist and that boys have their size questioned along with their muscle tone, but I find that generally women are more judgmental about the way people look. There are skinny bloggers and there are normal bloggers, I must have missed when being slim became abnormal. I will give you an example: I was charity shop shopping with my friend earlier after a coffee, and she said "you go look at your freakishly small clothes while I look at the normal one" now from her I don't mind as we do occasionally laugh at the sometimes comical size difference, but I didn't know being small, slim or skinny was freakish or weird.
"THERE ARE SKINNY BLOGGERS AND NORMAL BLOGGERS"
But juxtaposed to this are bloggers who consider themselves to be bigger saying I need to be skinny to create #OOTD posts. Number 1: no you don't need to be skinny or smaller than you are, there is always someone who will be a similar size that will take inspiration from your blog. Number 2: but if you want to lose weight that is a personal thing that you can share with your readers but not just to create a different style of post.
The is also the Pro-Ana community on blogging platforms such as Tumblr, which although most people oppose them I think are okay, I have scrolled through the tag recently, and yes the people there suffer from eating disorders but they are finding other people like them to help them through it, and if one of those people recovers and tells the others then it might just help. Non? But on the other hand there are posts like this: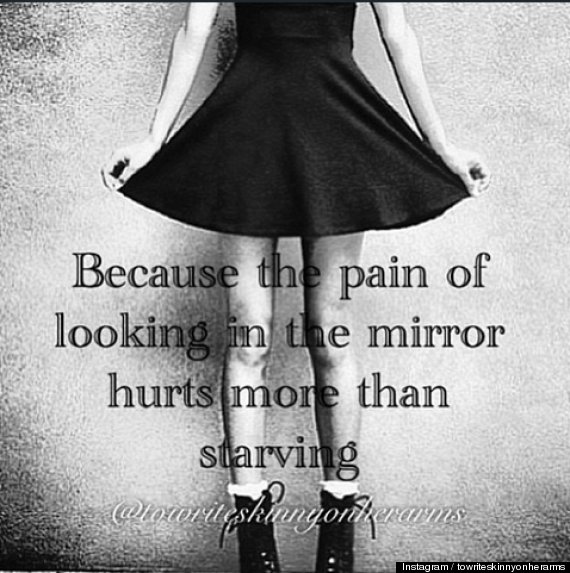 I also find that if you are smaller you are just
another
fashion blogger in a sea of many.
My last comment on blogging: You don't have to be skinny to blog, you can be who ever you want to be, just so long as you are happy doing what you do.
My Experiences
I know I have already talked about one personal experience in this post but there are a few others I think I ought to mention. At secondary school in about Year 8 I was called anorexic, now being 12 I thought nothing of it, but now looking back I cannot work out if it is meant as a compliment or an insult about my then very skinny body shape?
The second it that I found that it is okay to insult smaller people because the have "nice bodies" but if you insult a bigger person it is instantly bullying and must be dealt with. It doesn't make anysense to me, or maybe its because I am small.
I also find it a real struggle to find anything in a size 6 or 8 in things I like, there seem to be less of these sizes made, esspecially for tall gals like me shops assume that because you are tall you should be size 10+ hence my preference for Hollister and Abercrombie & Fitch jeans.
One quick note on models: can we stop saying that ultra skinny models aren't real women?
I have wanted to write this for a while, I feel I ought to say that I don't mean to offend anyone I just don't understand the stigma attached to being smaller. I also want to apologise for using the word skinny so much, but I think slim is considered to still have some nice curves (just me?)
xo, Miriam
P.S. What do you think? Tweet me at
@coffeechanel